Handleless-ness means happiness!
Sleekform - Panelform's unique 45° angle doors!
Introducing Sleekform. The perfectly formed (not edged) angle of Sleekform with its 2mm radius top edge is, in itself, a masterpiece of machining; delivering aesthetics and practicality that are unrivalled.

For Panelform, Sleekform is a logical progression. Since 1994, when we began with continuous postforming of melamine board, we've been all about form – fewer edge joins, smoother angle transitions and cleaner profiles. Through progressive technologies and products Panelform is continuing to lead the way in innovation and the design and engineering of door and panel products.

From postforming melamine, Panelform moved to thermoforming (their Durostyle range), and now bring Sleekform StyleLite acrylic doors to you.

Sleekform doors are manufactured from StyleLite acrylic board. The board is precisely machined to create the angled shape and a flap of the acrylic laminate. In throughfeed format, a StyleLite acrylic board is fed into the machine, which mills, heats, applies glue, forms, applies pressure, trims and buffs the door. It goes in as StyleLite acrylic board and comes out as Sleekform!

Panelform has created Sleekform following their commitment to always bring the best in design and quality to the market. After seeing angled doors on the market, they knew there was a better way to produce this type of door.

Compared to the flat-top shape of many angled door machines, Sleekform's profile not only looks superior, but allows a lot more room for finger grip on the top of the door (suitable for larger hand sizes). Handle-less doors get a lot more handling and therefore wear and tear than doors with handles. Having a seamless formed edge rather than a taped edge means a door that will last and will look new for longer.

Features of Sleekform:

* Better aesthetics
* More room for finger grip than flat-top angled doors
* Seamless top edge with smooth 2mm radius
* No discolouration at formed top edge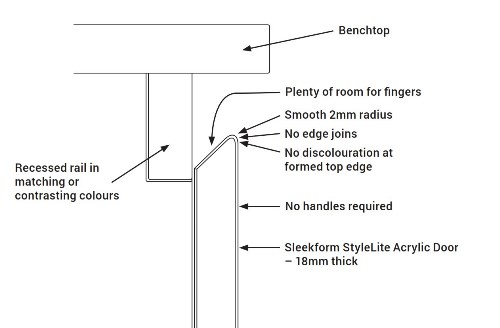 Sleekform is available in any of the StyleLite acrylic colours. Some of the StyleLite range is stocked by Panelform to allow for shorter lead times, and some colours are available up to 2750mm long. (Because of the production process, Sleekform doors are not available in melamine colours).

Sleekform doors are available to be ordered on Panelform's quoting/ordering website – EasyOrder.
Questions? Call us to speak with a specialist